UL746A Glow-wire Test Apparatus

Model: ZRS-3H
The ZRS-3H Glow-wire Test Apparatus is according to IEC60695-2-1, IEC60695-2-10, IEC60695-2-11, IEC60695-2-12, IEC60695-2-13 (GB/T5169.10, GBT5169.11, GBT5169.12, GB/T5169.13) < basic testing methods of Glow wire, basic testing methods of Glow wire device>, UL 746A, IEC829, DIN695 and VDE0471. The Glow wire tester ZRS-3H/ZRS-3HS is suitable for resistance to abnormal heat and fire test on lighting lamps, electronic products and household appliances. It uses high-temperature coating spraying on steel structure and imported instrument display, with easy operation and stable performance. The equipment is applicable to flame resistance test of all levels of QC departments and corresponding enterprises.

Specifications:
• Heating temperature: adjustable continuously within the range of ≤500-1000°C, the accuracy of temperature is 1°C, the resolution of temperature is ±3°C
• Glowing time: 0.1-999.9s,±0.1S(time range is adjustable)
• Burning time: 0.1-999.9s, auto record, manual pause
• Flame chilling time: 0.1-999.9s (auto record and manual pause)
• Glow wire pressure on test specimen: 1±0.2N. Limiting pressure depth is 7mm
• Glow wire: φ4 nickel (80%) and chromium (20%) Made in specific dimensions.
• Thermoelectric couple: φ0.5 armored nickel & chromium/nickel-chromium wire, K degree.
• Auto break away: While reaching specified glowing time, test specimen will break away from glow wire automatically.
To save the delivery cost for the oversea market, LISUN designed a compact version glow-wire tester which gross weight is less than 50kg. (Customer need to prepare additional ventilation system for ZRS-3HS)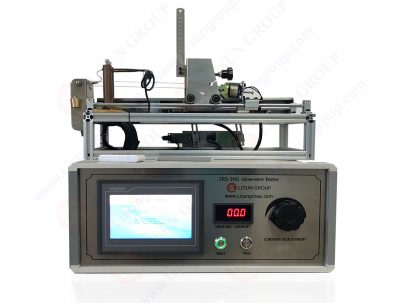 Related Products